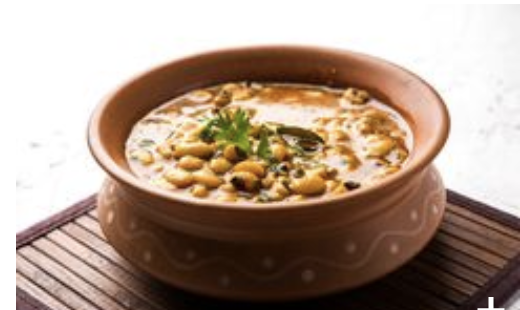 Black Eyed Bean Recipe
Course: Recent post
Cuisine: Indian
Difficulty: Moderate
Ingredients
Black-eyed beans – 1 cup

Onion – 1 medium, finely chopped

Tomato – 1 medium, finely chopped

Green chilies – 3, chopped

Garlic – 8 cloves, finely crushed

Ginger – ½ inch piece, finely crushed

Cumin seeds – ¾ tsp

Turmeric powder – ½ tsp

Red chili powder – 1 tsp

Coriander powder – 1 tsp

Cumin powder – 1 tsp, roasted and crushed

Salt – to taste

Coriander leaves – 2 tbsp, finely chopped

Oil – 3 tbsp

Water – 1 and ½ cup
Directions
For preparing the black-eyed beans or lobia, wash them, rinse them and soak them in 3 cups water, preferably overnight.
Boil the beans using fresh water 3 cups. (If using a pressure cooker cook for 30 minutes). Boil until the beans are soft. Strain the remaining water from the boiled beans and keep this water to use later in the recipe.
Heat oil in a pan. Add cumin seeds and allow them to crackle.
Add onions and sauté till it turns golden.
Add green chilies, garlic, and ginger. Sauté for 2-3 min in high flame.
Add finely chopped tomatoes and cook till it turns soft and blends with the onions, ginger and garlic.
Add the spices; turmeric powder, Red chili powder, coriander powder, and cumin powder. Mix well and sauté for 1-2 minutes.
Add black-eyed beans and mix it well with the spices for 4-5 minutes.
Add bean water separated earlier, add salt and let it boil and simmer for a couple of minutes until well boended.
Garnish with finely chopped coriander leaves.
Notes
The black-eyed pea, black-eyed bean or goat pea, a legume, is a subspecies of the cowpea. It is commonly found and grown around the world. 
Health Benefits of Black Eyed Beans
Regulates blood cholesterol and blood sugar level in the body
Beneficial in treating ailments related to the cardiovascular system
Rich in antioxidants like Vitamin C and A as well as proteins.
Rich in dietary fiber, low in calories so a good source for weight management.
Strengthens the stomach and spleen functions.